Get to know about some of the most important features of mediaplan4: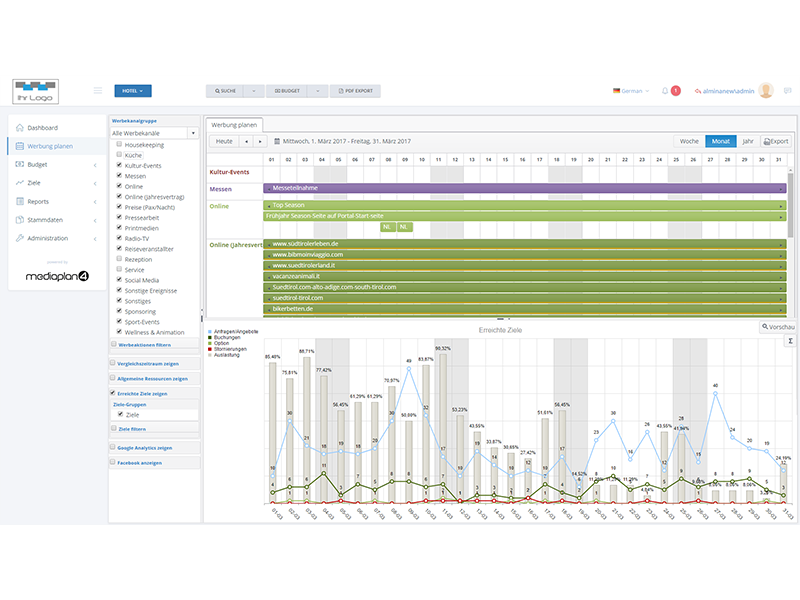 Dynamic surface
You control which elements you currently need for your advertising planning. Shwo and hide individual advertising channels, activate the holiday calendar and display the achieved goals for your company. Show the goals and even e-commerce data from your Google Analytics profile. And once you need more space on your interface for your advertising work, just hide other information again.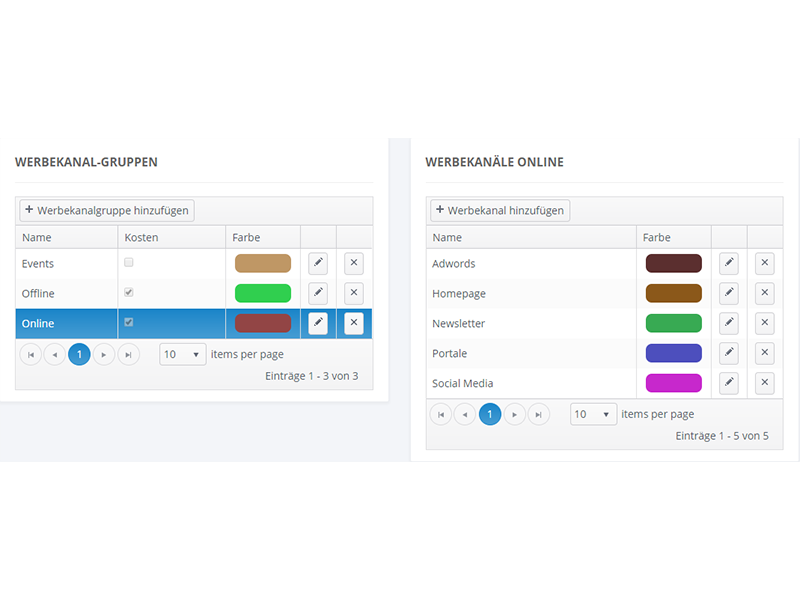 Customized set up
Create the data fields that you need for your media planning. Create an organization chart of your company structure with so-called business areas, create advertising channels, goals, advertising campaigns, properties that are relevant to your business field.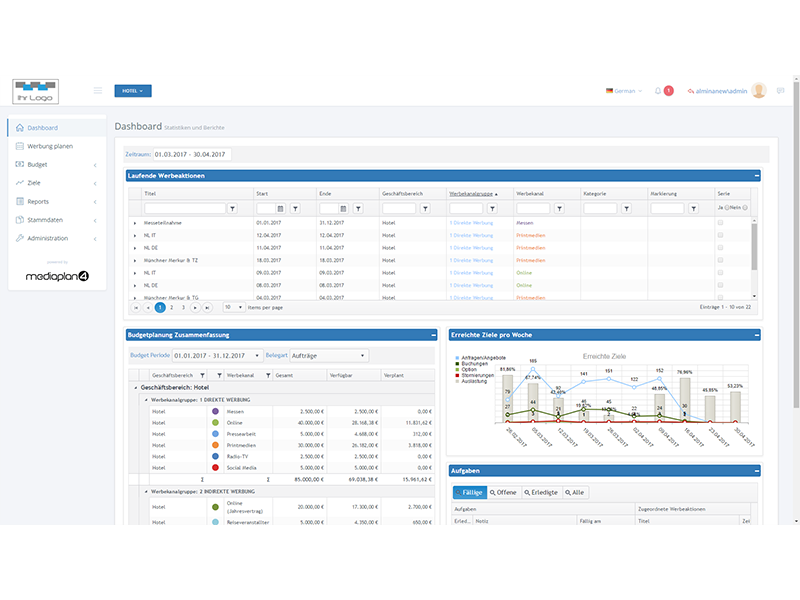 Dashboard
The dashboard displays a lot of all the important information, such as current marketing activities, advertising budget performance, goals, general events, and holidays. You can adjust the time period for the data view to get the desired data.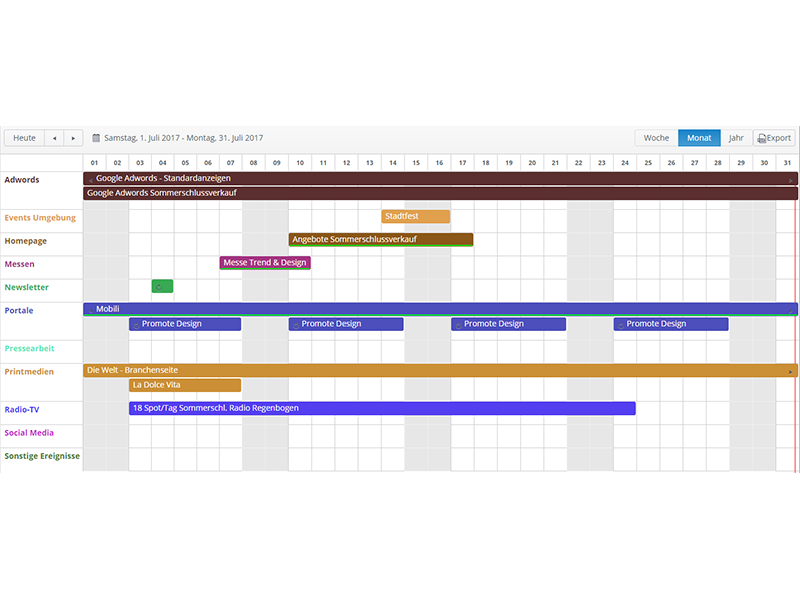 Timeline
Your marketing activities are displayed graphically in a timeline. The customized advertising channels are displayed in different colors of your choise. Furthermore you can create individual tags for possible, already planned and already completed activities, in order to keep the overview.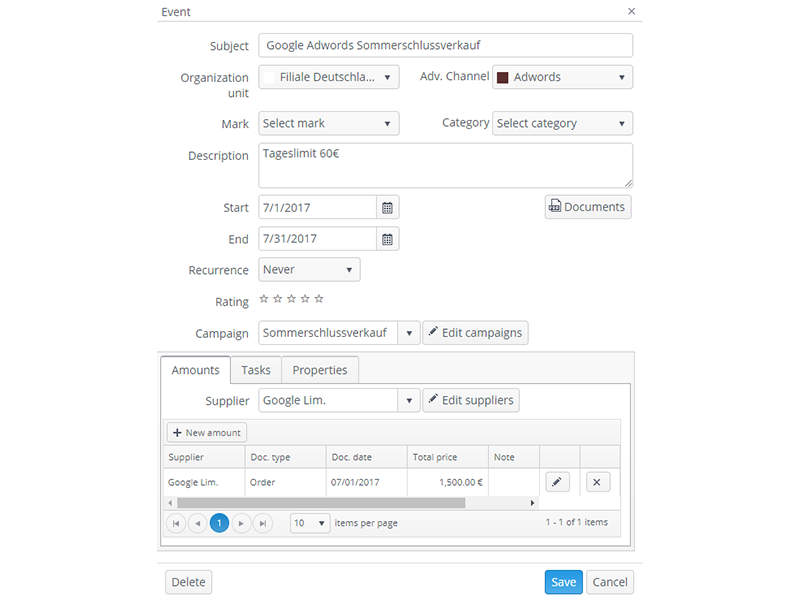 Detailed information
You are able to store very detailed information about each promotion. In addition to description, start-end, you also assign the supplier(s), amounts, and advertising campaigns. Assign tags depending on the status of the promotion. If necessary, use the reminder function, to get full automized reminder emails of any due dates. Or save important documents such as e-mails, images or even contracts with your advertising partners.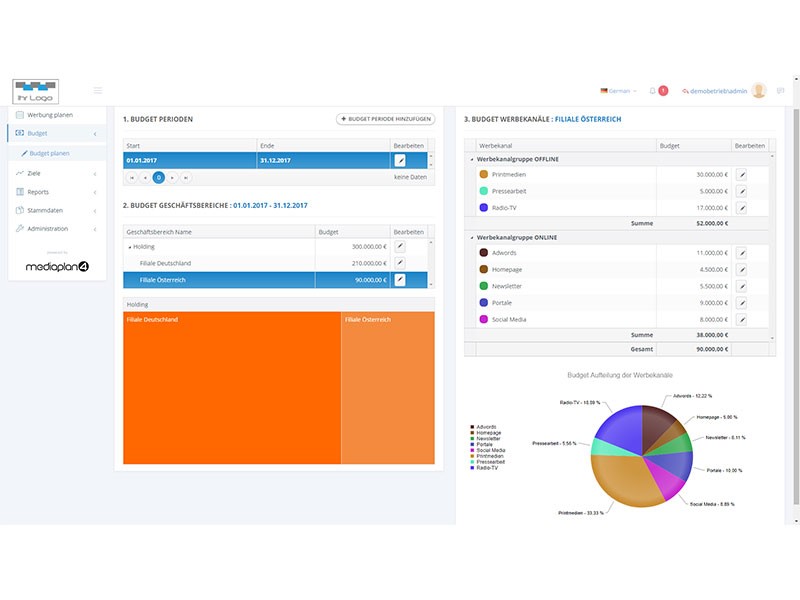 Advertising budget planning
Create your budget, and release the planned expenses for the individual business units, advertising channels and marketing campaigns.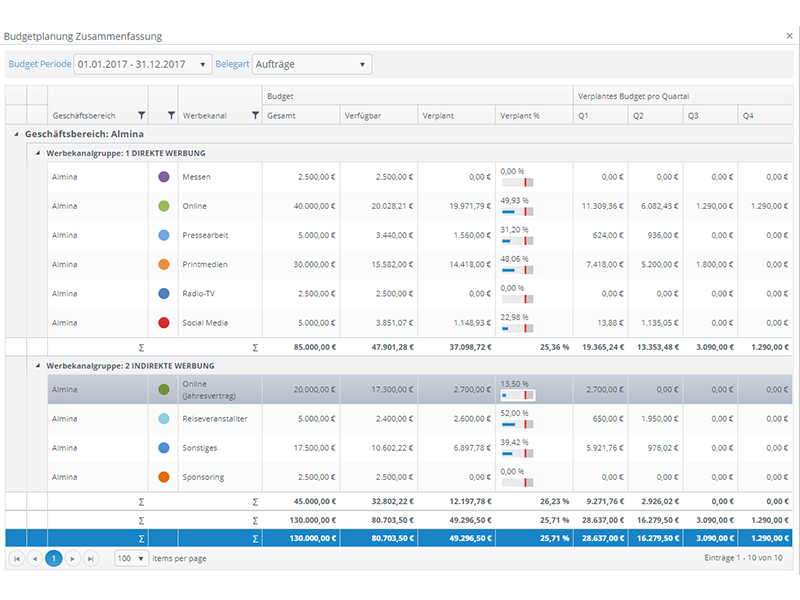 Budget Controlling
Always keep track of which advertising issues are planned and approved, and what expenditure you have already made. This helps in deciding which expenditure is possible at which time, and supports you in the long term with an even more optimal distribution of the budget.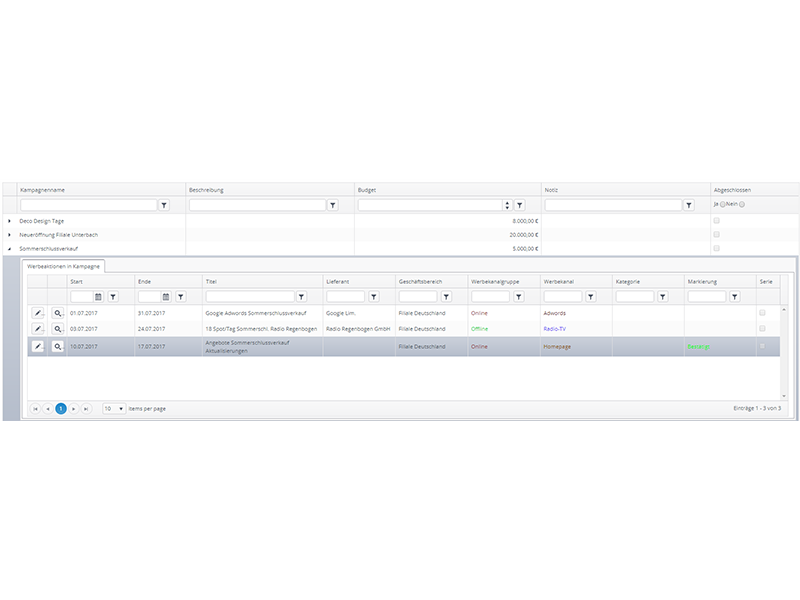 Campaigns
In view of a special event, you will plan several advertising campaigns, distributed at different times and advertising channels. In order to get this done accurate, with mediaplan4 you have the right tool.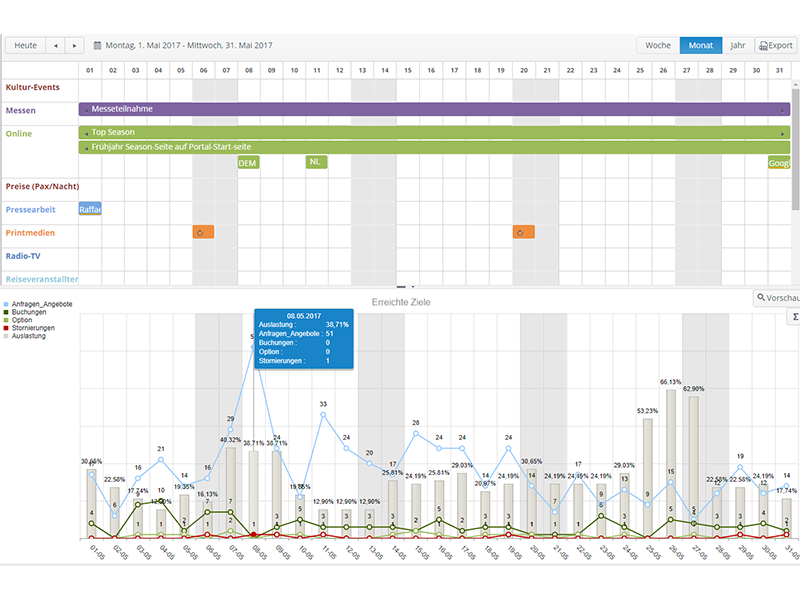 Measure achived goals
Parallel to your planning overview, a chart of the achieved goals of your company is presented. You can define which goals you want to measure. Through this type of presentation, you will see "live" during the planning process as to whether your advertising activities have a visible impact. Or you see e.g. the future utilization, in order to be able to counteract targeted advertising campaigns during weaker periods. This form of graphical representations helps you understand the relationships, measure and optimize the performance of your advertising campaigns.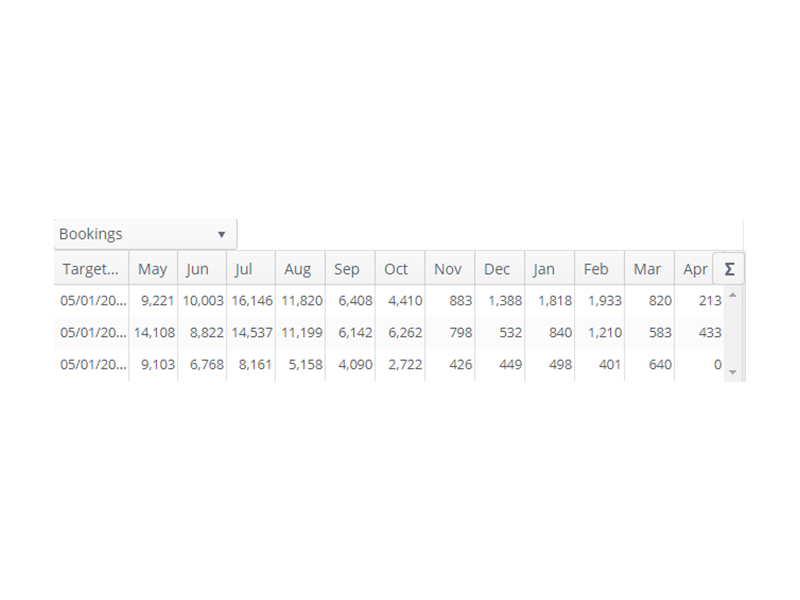 Performance preview
For some kind of business (e.g. tourism), in order to set your advertising campaigns at the right time, mediaplan4 offers a preview of the booking load of your company for the next 12 months. In addition, you can analyze the development on each "deadline date" and compare it with previous years in order to be able to take action at the right time.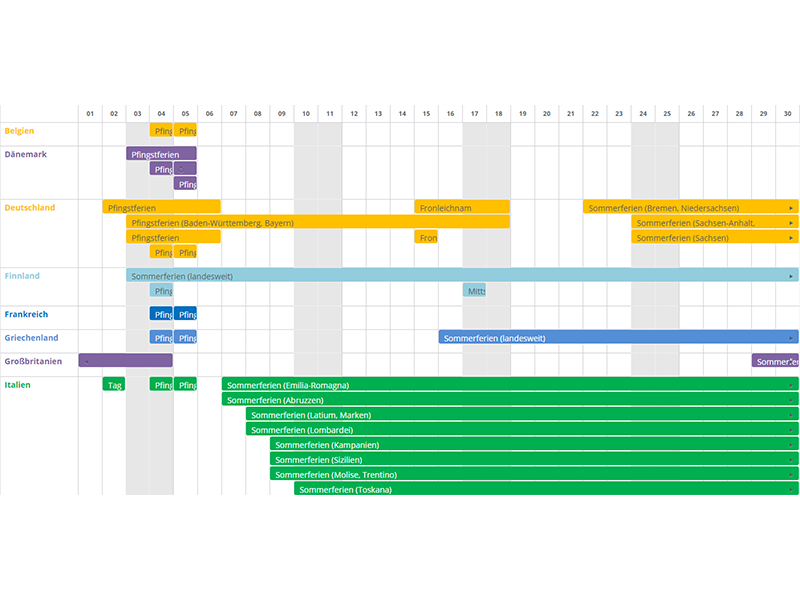 Holiday calendar, events...
Often the planning process of your activities depends heavily on external factors. We have also considered this, and mediaplan4 offers the possibility to display this information directly in your planning overview. This mainly includes the holiday periods in the different countries, but also events from politics, business, sports, culture, etc. are considered.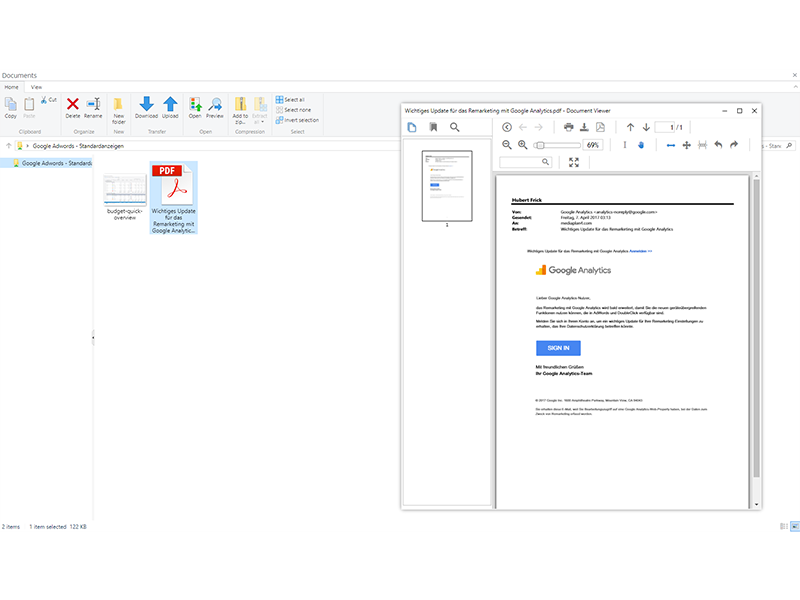 Document storage
mediaplan4 allows you to store important documents such as contracts, order confirmations, emails and descriptions regarding your advertising campaigns. This saves time when searching for documents again, and also improves team collaboration, so that every team member gets access to important documents immediately. You can place all popular formats, such as PDF, Office files, emails, images, etc., on your advertisements.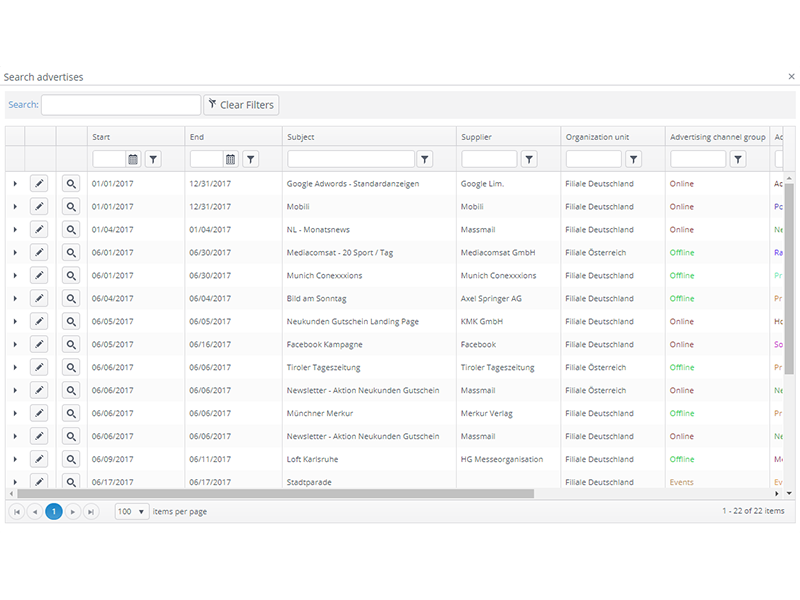 Smart search
Quickly find your data at any time. Flexible search filters are available, such as advertising campaigns, supplier, type of advertising channel, period etc. to quickly retrieve your data. With the help of intelligent buttons within the search lists, you can either jump directly to the desired period, or you can also open the data directly for viewing / editing.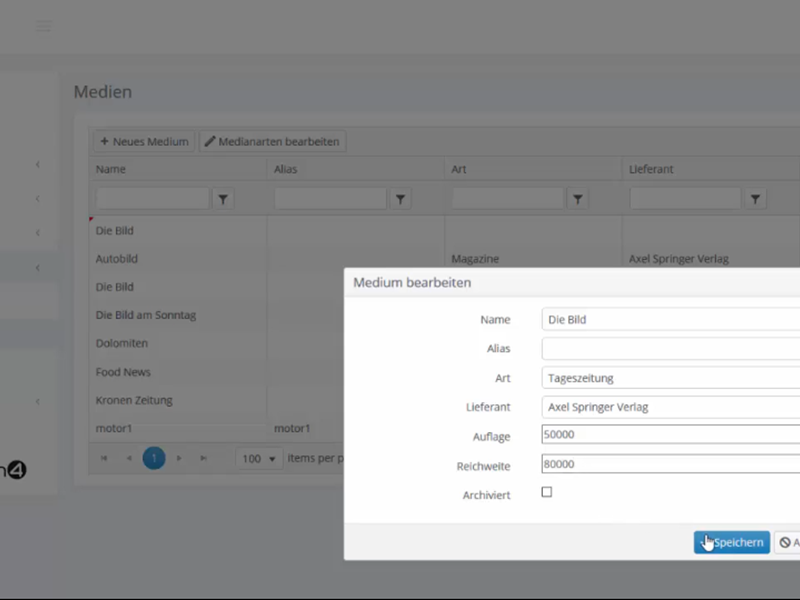 Reports
Get the most out of your media planning software. A variety of different reports are available to you. By specifying different parameters and filters depending on the report such as the period, advertising channels, supplier, etc., you can pick up exactly the information you need. You can print or export your reports (Excel, PDF ...).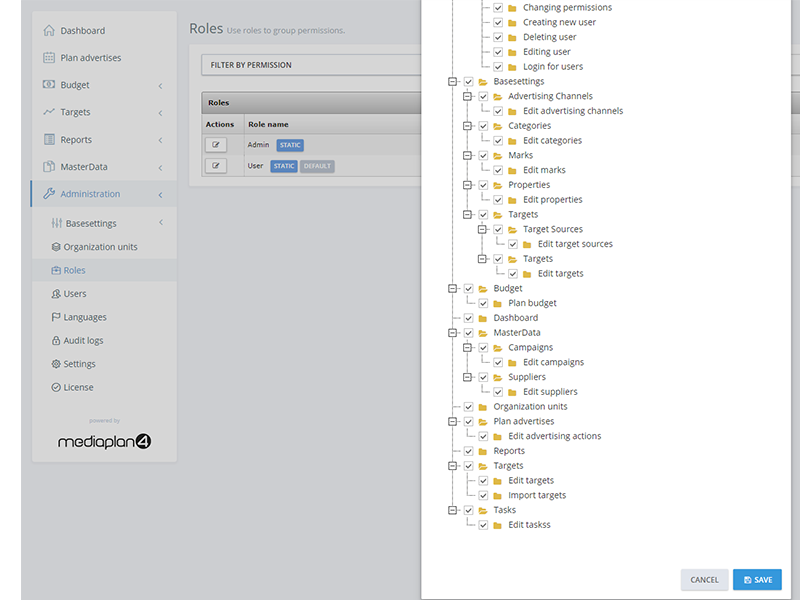 Settings - Administration
As an admin user, you can independently configure system-wide settings. You also manage the users of your mediaplan4 independently and assign the necessary authorizations. Determine which users are allowed to view or edit which areas. If you need lots of users, you can use roles to assign unified permissions to specific user groups.